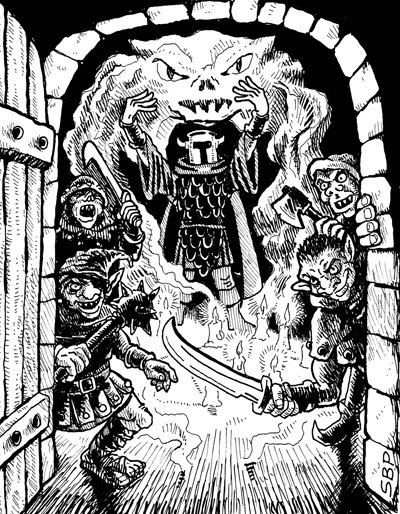 Twill Bell looked out from the high tower of Black Eagle Castle, the Fortress of Clan Daha. It had been a long night of skullduggery. They had climbed along those dark rocks down by the river and then up through the underground stream passage into the depths of the castle dungeons. It had been muddy, slippery work, not at all like the heroic tales of legend. That strange "cave octopus" dropped onto Stefan, and then they fought that dead creature in the boarded up dungeon. And when they climbed the endless spiral stairs to the very top of this tower where the truth of what has happened to the King of Delver's Dale and His brother appear to be even more horrible than could be imagined, more horrible than any flight of fancy told in the cups down at the Drunken Dwarf. Twill's companions had ransacked the wizards private rooms, falling prey to the traps and secrets of the place. They had even clashed swords with a hellish demon that had materialized in their midsts. So much for secrecy. Far far below, Diamond Lake shone in the milky haze of starlit mist. It made him think of a song Aphra Behn liked to sing when he spoke of the Dale.
O sapphire lake amid autumnal mountains,
 With fire of aspens round about you burning,
 I would my love and I were now returning,
 Perchance to leave you never— To dwell with you, and know the mountain seasons,
 The fleeing cloud, the cliff and pine eternal,
 The fall of leaf and snow and blossom vernal 
Upon your placid waters.
Wait, what was that flew across those placid waters? To big for a raven… a dra-? With a start, Twill realized he could see the outline of the mountains to the East, great snow clad Koshtra Belorn glowing in the nimbus of dawn's first blink. The castle would will be waking! They must flee quickly before we are discovered and we bring dishonor upon Lord Trousdale! No one must know of this night's misadventure!